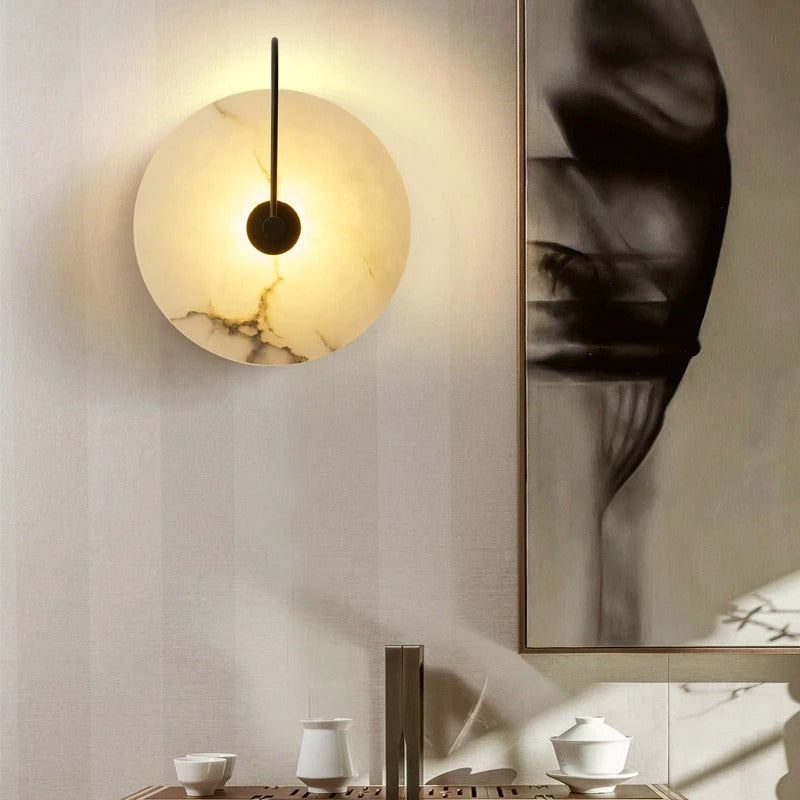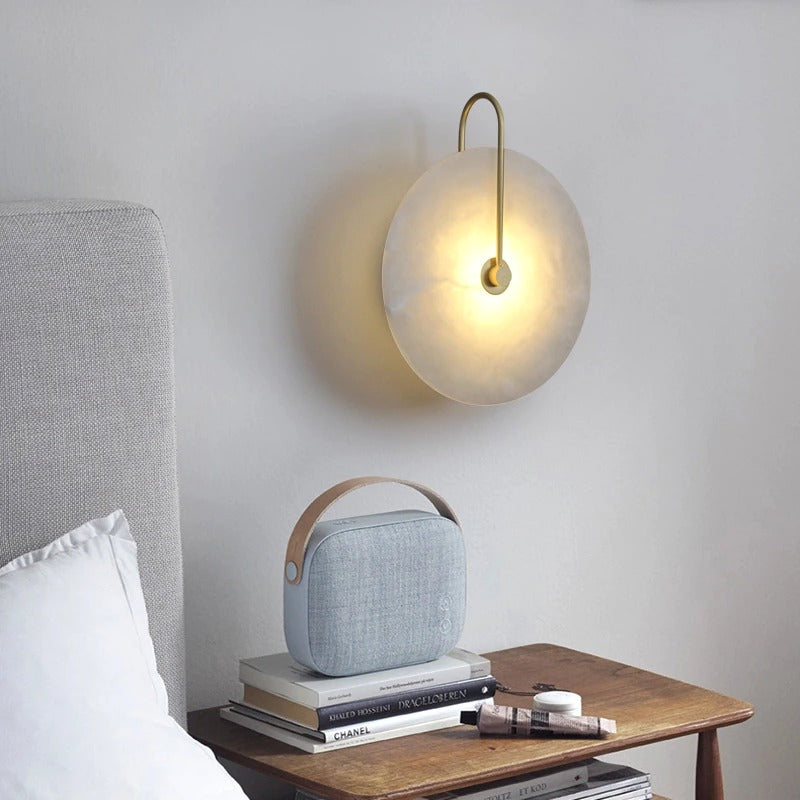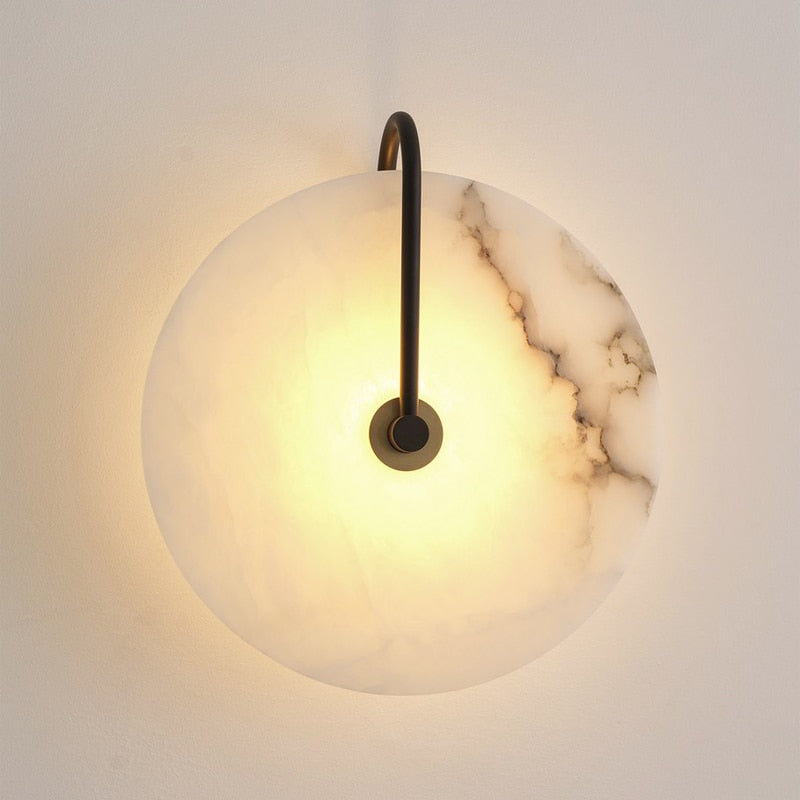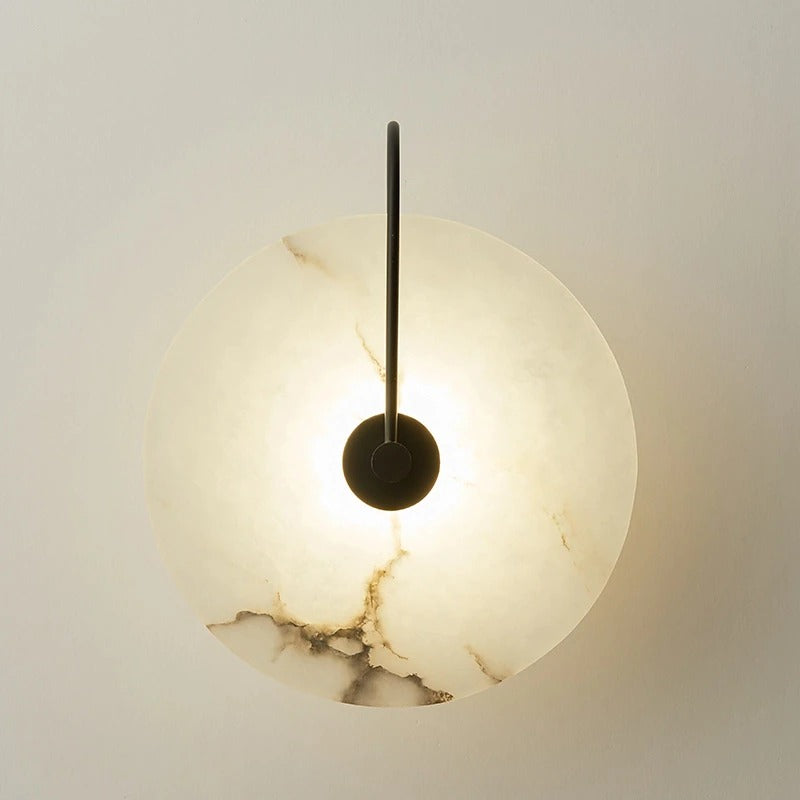 Thanks lodamer, I already received 2 pieces of lamps in good condition. I didn't know they was delivering in 2 deliveries. When the 1st came, I thought he/she made a mistake. But today I received the 2nd delivery.
I have received the wall lamp a long time ago. The packaging is very good and undamaged. The style is very unique and matches our home's decoration style very well. I really like it.
lamp is very good, it arrived on time and well protected.
ALABASTER ROUND MARBLE WALL LAMP
The Alabaster Round Marble Wall Lamp embodies a simple design concept and meticulous craftsmanship, resulting in an exquisite masterpiece that transcends the boundaries of a traditional wall lamp. Combining the elegance of marble with a sleek metal base, this remarkable piece showcases both its practical functionality and its artistic charm.
The gentle glow emitted by this wall sconce creates an ambiance of tranquility and sophistication, casting enchanting shadows across the room. Its round marble shade adds a touch of timeless opulence, infusing your living space with a sense of refined luxury.
Not only does the Alabaster Round Marble Wall Lamp radiate a warm and inviting glow, but it also captivates with its artistic charisma. The fusion of premium materials and unparalleled craftsmanship brings an air of fashion charm to any room, creating an atmosphere that transcends the ordinary.
Elevate your space with the mesmerizing allure of the Alabaster Round Marble Wall Lamp. Experience the perfect union of simplicity and artistic craftsmanship as it becomes a captivating centerpiece that enchants both your eyes and your soul. Let this extraordinary wall lamp redefine your perception of beauty, bringing a harmonious blend of modern design and timeless elegance to your living space.
This round marble wall lamp is a lovely, inexpensive, and practical lamp to meet your basic fashion lighting needs.
Add this Lamp to bring an extra dimension that complements a wide variety of decorative schemes with its antique look.
It is not only a good gift to your family and friend but also a great decoration for your bedroom, living room, kid's room, or Office.
SPECIFICATION
Voltage

 

: 110-

220 V

Power source

 

: 

AC

Body Material

 

: 

iron

Light source 

: 

LED bulbs

Lighting zone 

: 

5-10m2

Material (s) 

: 

Marble 
Shipping time may last from 2-6 weeks for delivery 
(Just to ensure safety)